Voloper has the right software tools to increase your site's traffic, enhance your business operations and improve your bottom line.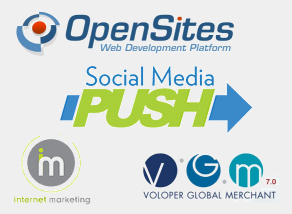 OpenSites Web Development Platform: The OpenSites WDP makes managing and updating your web site a snap. Keep clients returning to your site and involved with a host of interactive modules. If you can drag-and-drop, you can add a blog, a message board, a photo album and many more functional modules. No web programming required.
VGM E-Commerce: Do you sell something? Do you have a web site? You're not selling through your web site? We need to talk. Voloper has a Global Merchant E-Commerce system to match your needs and your price point.